Do you live far from your family and often feel the need to have someone to spend your days with? Are there times you feel loneliness and lack motivation to face a new day? If your answer is yes, companionship care might just be what you need.
Life begins to slow down as we become older. At Maxxicare, we realise how tough it may be to fit social activities into your hectic schedule. It can help to know that there is a kind, caring companion that visits on a regular basis, whether it is for yourself or for elderly family members nearby or across the nation.
Loneliness is a serious issue that must be addressed as it brings several repercussions with it. Our culture has changed dramatically in the last few decades, and families no longer spend as much time together as they used to. As people age, their social networks may deteriorate as peers pass away, leaving television, radio, and pets as their primary sources of companionship. Fear of toppling over may prevent you or a loved one from venturing out on your own, making it nearly impossible to make new friends.
Because of the global COVID pandemic, we have been compelled to keep our distance from loved ones and spend months alone in our homes. This has exacerbated mental health issues in all age groups, but with many older people needing to protect themselves in order to maintain their health, loneliness among the elderly has increased.
Companionship care is comparable to live-in care in that a Carer lives in your home with you to give full-time assistance. There will, however, be less criteria for more complex care needs.
What are some of the advantages of Companionship Care?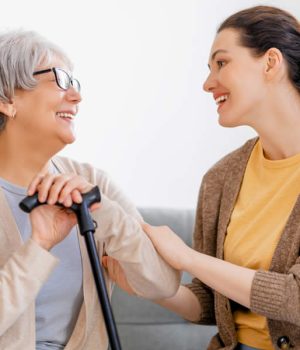 Companion care can be customised to meet the individual needs of you or a loved one. Perhaps you need someone to call in a couple of times a week, chat over a cup of tea, and occasionally accompany you on outings or shopping trips.
A companion is an excellent option for elderly persons who are lonely, have health issues, or feel particularly vulnerable living alone. It allows you or a loved one to remain in their own home while yet receiving care at home from someone who can assist them if necessary.
Our companion will ensure that your elderly relative can contact with friends and family who live far away by accessing social media and aiding them with emails and video phone calls, if they require it.
Performing household chores and going on errands such as shopping.
Taking care of your personal needs and hygiene.
Meal preparation and administration and management of medicine.
Providing support with continence issues and mobility
Offering companionship